Group Training Descriptions Are Below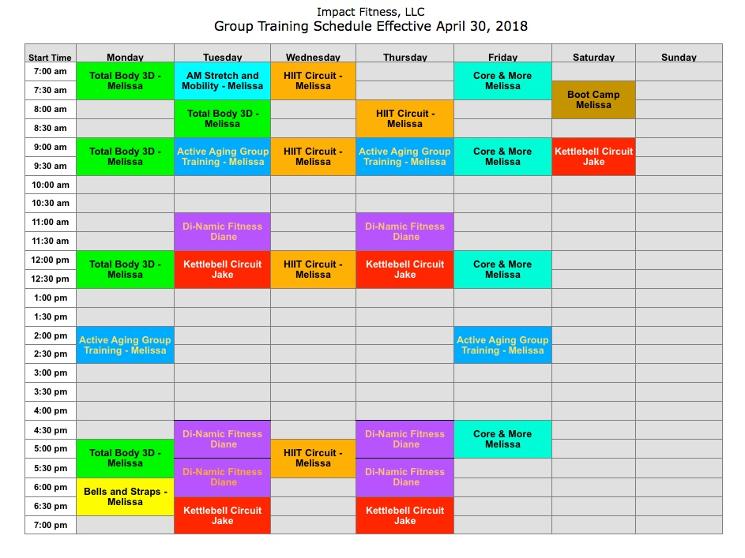 GROUP TRAINING DESCRIPTIONS
Our Group Training sessions are designed to accommodate various levels of fitness and capability to ensure safety and an amazing workout for all participants.

Active Aging Group Training - Melissa
Designed for seasoned bodies, Active Aging Group Training features the suspension training TRX Rip Trainer, stability balls, bands, and free weights with minimal impact on joints. Workouts focus on form, flexibility, core, balance, endurance, and strength.
AM Stretch & Mobility - Melissa
Start the day with focused mobilization of joints and stretches to help your body recover from office work, exercise, gardening, and other activities. Melissa's background in movement and massage therapy will help sort out problem areas and get you feeling and moving better.
Bells & Straps - Melissa
Works smart with one of the most powerful combinations of stability and strength: kettlebells and TRX suspension training. Learn and refine kettlebell swings, cleans, presses, squats, deadlifts, and Turkish Getups together with the stability challenges of suspension training for optimum strength and conditioning. Ability to press overhead is required.
Boot Camp - Melissa
Get a total body workout with Impact's Saturday morning boot camp. Cardio, core, strength and endurance are challenged in these workouts. Sessions are fun and a great way to start your weekend!
Core & More - Melissa
Ignite your core and more! These sessions focus on functional core moments to improve and condition core strength and stability, essentials to pain-free movement and overall strength. TRX Suspension Training, TRX Rip Training, Bosu balls, stability balls, Airex pads, ropes, bands, sandbags, and the SurfSet surf board are featured in these workouts.
Di-Namic Fitness - Diane
Ready for a "Di-Namic" experience? Come in and see Diane! These small group sessions are designed for all levels of fitness. You will gain strength, stability and endurance, using a wide variety of equipment - TRX Suspension Trainer, TRX Rip Trainer, ropes, stability balls, free weights, kettlebells, bands and more.
Increase your metabolic rate and burn calories with metabolic training. Exercises emphasize large muscle groups, compound movements, and include Tabatas, intervals, AMRAP, and EMOM formats. This class is scalable and designed for ALL fitness levels.
Kettlebell Circuit - Jake
Kettlebells offer a great way to develop and increase flexibility, endurance, and strength while getting a full body workout. Sessions also incorporate sled , ropes, free weights and other functional training tools to work multiple muscle groups simultaneously.
Total Body 3D - Melissa
Restore quality of movement, range of motion, and body awareness to recover strength and the capability to do more! Total body workouts combine flexibility, core conditioning, strength, stabilization and complex movements using various functional fitness tools including the TRX Suspension and Rip Trainers, kettlebells, free weights, ropes, and stability balls.